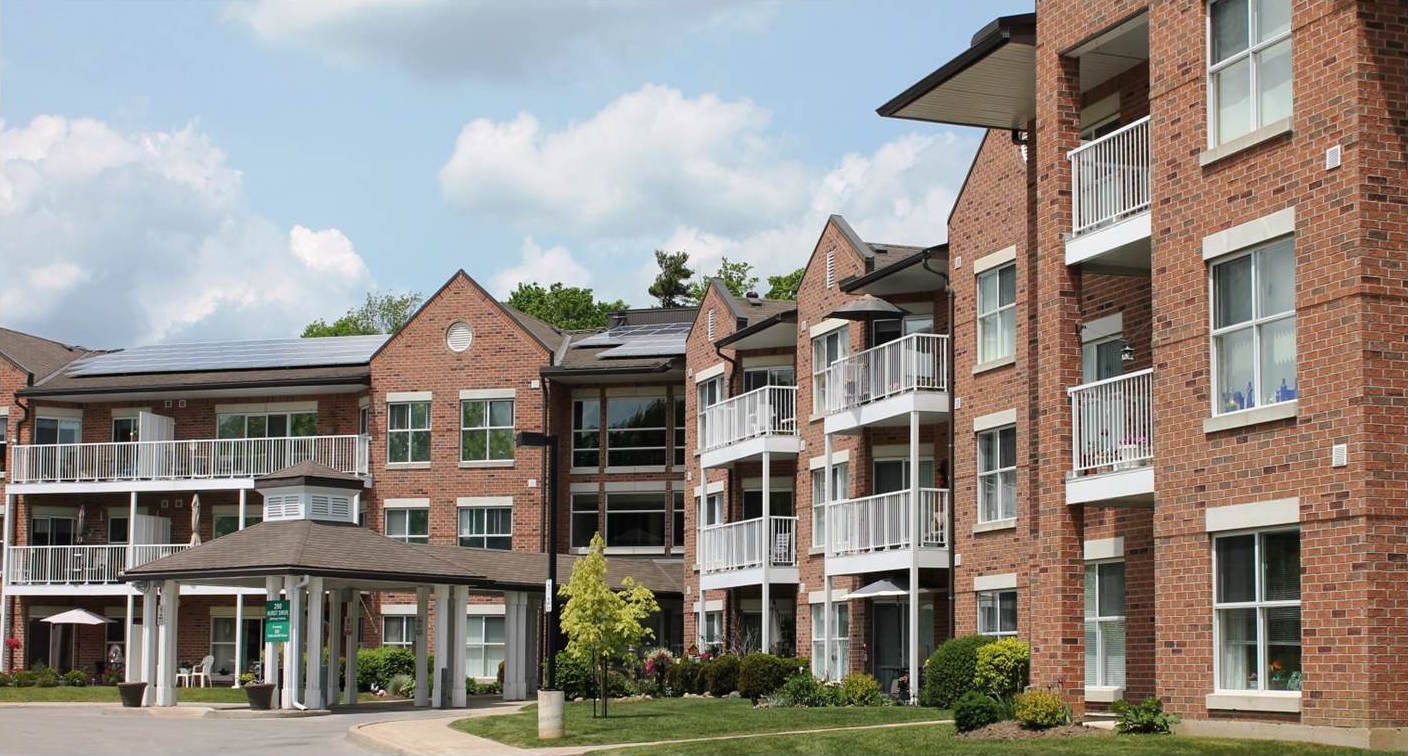 general questions
When is the right time to move to Tollendale Retirement Community?
Probably when you have had enough of all the chores involved with owning or living in a house - or you winter in the south and don't want to worry about your house while you're away. In Tollendale Village you will have a safe, comfortable, convenient location in beautiful park-like surroundings with compatible retired or almost retired tenants.
What amenities will be available?
The "Village Square" includes a 450 seat auditorium, 100 seat dining room, coffee shop, hair salon, banking facility, lounge space, activity rooms, guest suites etc. We also have an all-purpose meeting and activities room; a games room; a woodworking shop; and an indoor mini-golf and shuffle board. For the avid gardener we have a number of vegetable gardening plots.
The elevators take you down to the underground parking garage and public walkways, which inter-connect the buildings with the "Village Square". This is great during the winter months or on rainy days. You can visit any of the four apartment buildings, the Village Square or the long-term care facility without putting on a coat, boots or carrying an umbrella!
What health related services are available?
The nursing staff has a keen interest in gerontology. They offer limited nursing services that support a resident's unique, independent lifestyle.
Nurses are on-site, in a clinic setting, Monday through Friday from 8 a.m. - 4 p.m.
Exercise Program
A resident-led tri-weekly exercise program is designed specifically for seniors.
Twice weekly volunteer-led exercise and fitness classes.
Do all residents pay for nursing services?
Yes, all residents are charged a monthly Nursing Services Fee.
What if I need additional care?
Residents can access additional nursing and support home-care services by contacting outside service providers, such as the Community Care Access Centre (CCAC), or numerous other private care providers to make the necessary arrangements.
Friday evening meal service is available in the dining room, or it can be ordered and paid through the cafe. Several volunteers make themselves available to deliver meals through our "Meals on Heels" program.
When I need to move to the nursing facility (Mill Creek Care Centre) am I guaranteed immediate acceptance into the facility?
No, all applications for Long Term Nursing Care are administered by the Community Care Access Centre (CCAC). You are advised to contact them to confirm the application process. It is our understanding that CCAC will attempt to place you in the facility of your choice provided there is a vacancy.
What if I need more Nursing Care than is currently available at Tollendale Village?
Our nursing staff act as a resource, they will consult with your family, the Community Care Access Centre (CCAC), and your doctor, if requested, to assist you in transferring to the first available alternative care facility.
Is there a Chaplain on Staff?
Tollendale Village has a full-time chaplain who is responsible for the implementation of the Spiritual Care program. Regular church services are held in the Gathering Place every Sunday evening. Many other spiritual related activities take place in which residents may participate.
What other amenities are in the immediate area?
There is a Barrie transit bus shelter on Hurst Drive, which borders our property. We are located across from a city park called the "Gables," which overlooks Kempenfelt Bay. Beaches, parks with walking and cycling trails along with two marinas are also in close proximity to our site. A retail area of grocery stores, pharmacy, restaurants, specialty stores, and banks are within one kilometre. An after-hours clinic, recreational centre equipped with an indoor pool, saunas, gym, and seniors' centre are all within two kilometres. You are essentially in the heart of Barrie - yet in a country setting! Barrie also has a beautiful new hospital - offering excellent health care. Barrie has the largest retail shopping area north of Toronto. We have live theatre, 3 movie theatre complexes with a total of 26 screens, art galleries, and a farmers market. To learn more about the City of Barrie, go to the City of Barrie's website at www.barrie.ca
Are pets permitted?
Dogs are not permitted; the only exception to this rule is service dogs for people who are visually or hearing impaired. Indoor cats will continue to be permitted. We recommend that applicants disclose any pets they may have prior to signing the application form to reserve a unit.
Do residents participate in the Management and Governance of the Village?
Tollendale Village is owned and operated by Simcoe County Christian Senior Home Inc, whose members have elected a Board of Directors consisting currently of 8 individuals. Two of the Directors are chosen from among the residents (who are members of the Society) by the residents of Tollendale Village.
The residents also elect a Tenants Committee (or Residents Council) to represent all residents. This Committee has close liaison with the Senior Management staff.
Do I have to be a member of Simcoe County Christian Senior Home Inc to be a resident?
No. Residents are not required to be members; however, for those that subscribe to the Faith Statements, as well as the Mission, the Vision and the Values, there is opportunity to become a member. As a member you may participate in the decisions of the Society, including electing and being eligible to be a director. Contact the office for a Membership Application form. All residents should respect the Mission, Vision and Values as articulated elsewhere in this document.